Adria Tour - Zadar
The Novak Djokovic Travelling Troupe makes its way to Zadar with changes to the ensemble
After their exploits in Belgrade, Novak Djokovic and the Fellowship of the Ring, also known as the Adria Tour, continue their journey across the Balkans. Our protagonist and his loyal companions, Zverev and Dimitrov, leave Belgrade in diminished numbers — the Serbian cohort is no longer with them, nor is Dominic Thiem, who after winning the Belgrade leg of the tournament, in a typical Dominic Thiem fashion, moved on to the next competition in his insatiable desire to amass the largest number of trophies possible, ranked or not. They arrive in the mysterious city of Zadar alone, but it is not long before they're joined by new additions to their group — locals Borna Ćorić and Marin Čilić, Serbians Peda Krstin and Danilo Petrović and Russian Andrey Rublev.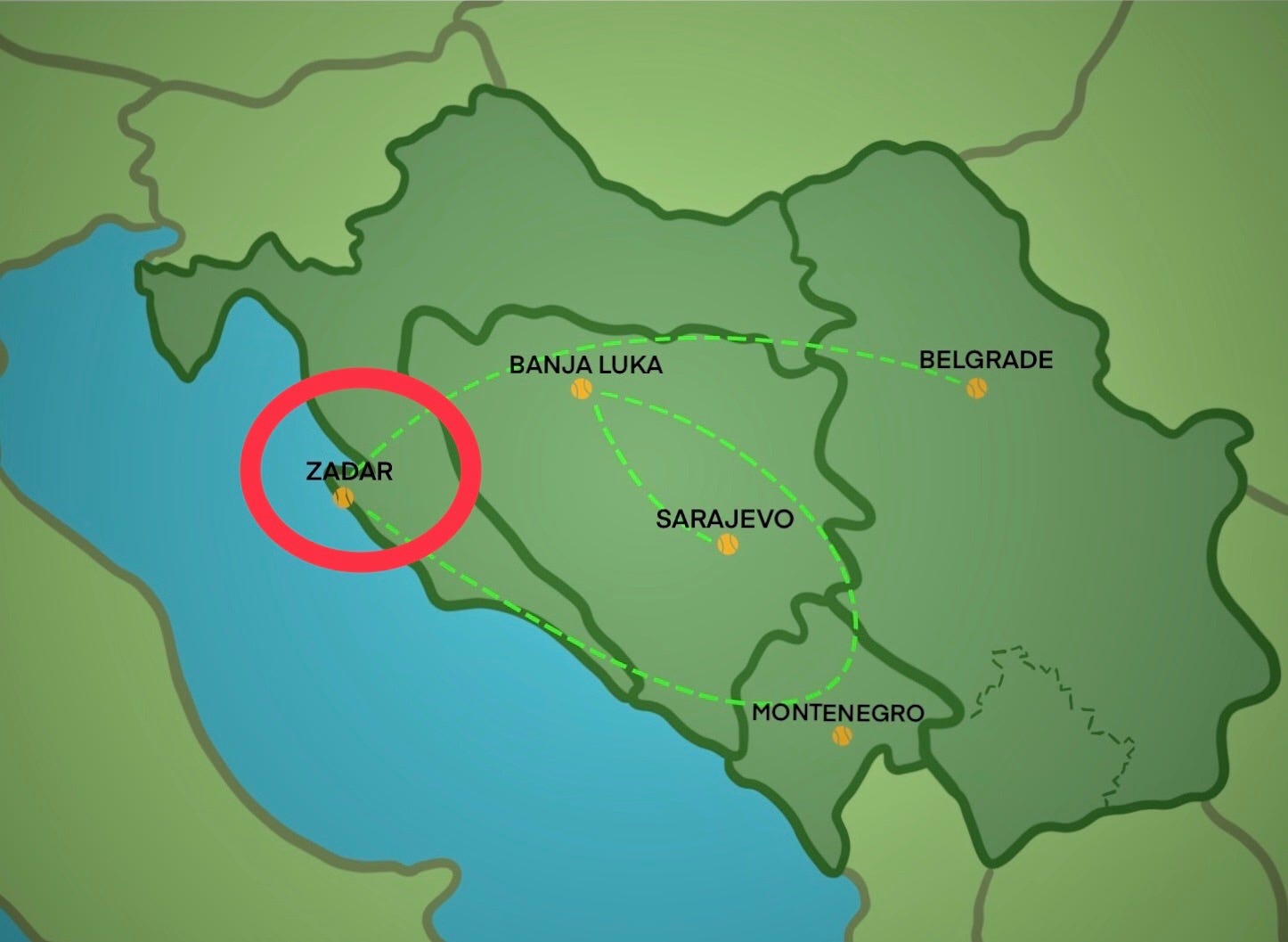 The second leg of the Adria Tour takes place in the coastal city of Zadar. Situated on the Adriatic Sea, Zadar seduces with its quasi Mediterranean feel — rows of white-brick buildings and red-tiled roofs provide a colourful contrast to the deep blue of the sea. The tournament itself is held at the Višnjik Sports Center, a sprawling 200,000m2 sports complex designed with functionality in mind, more practical than pretty, an engineer's creation rather than an architect's one.
There are no changes to the format from the Belgrade leg — the tournament is still played under the Fast4 system with shorter sets until 4 games and a tiebreak at 3:3. Once again, the players are split into two groups playing 3 matches each, with the winners meeting in a Sunday evening final. With the absence of Dominic Thiem but the addition of Rublev, Ćorić and Čilić, the line up shaped up to be even stronger than in Belgrade. The tournament was designed to be part charity, part humanitarian effort with the prize money going to the players' selected charities and aiding the less successful, local players.
It offered no ranking points, and at best, was seen by the competitors as an opportunity for high-level practice. Sadly, this was not enough of an incentive for every player taking part in the tournament. Case in point being Sascha Zverev who during his 3-set loss to Danilo Petrović (3:4 [2:7] 3:4 [1:7]), a player ranked in the 150s and aeons away from the relative level of Sascha, had somehow managed to commit 12 double faults. This absurd record is enough to put most serious club-level players to shame. For a top-10 ranked player, who people pay serious money to see, it is an unthinkable number. Zverev recovered well to win his second tie against Marin Čilić (4:3 [7:1] 0:4 4:3 [7:1]) and it seemed that he was now playing much closer to his usual level, but he fell apart again in his final match — a spineless defeat to Andrey Rublev on Sunday (2:4 1:4).
Going into the match, the Zverev - Rublev rivalry stood at a slightly misleading 4:0. To Andrey's credit, his win over Sascha wasn't all down to the latter's self-implosion — he had brought into the tournament the level of intensity he is known for, and white-hot form that won him 2 titles before the Tour shut down in March. Before his admonishment of Zverev, on Saturday he came on top in an encounter with Marin Čilić (4:3 [7:5] 2:4 4:1) and dispatched with the tormentor of Sascha, Danilo Petrović, in a routine fashion (4:2 4:1).
Čilić fought valiantly in all three of his matches, but he ultimately rounded off his tournament with a surprise defeat to Danilo Petrović (2:4 2:4).
The crowd favourite, and the man behind the Adria Tour, Novak Djokovic, improved on his performance from Belgrade and secured a place in the final by winning his two Saturday matches against Pedja Krstin (4:3 [7:3] 4:1) and Borna Ćorić (4:1 4:3 [7:1]). By the time of his final match against Nino Serdarušić on Sunday, Novak was all relaxed. He didn't let his level drop, however, closing out the encounter in three sets (4:1 4:3 [7:3]), and in the process seeking out to establish a personal record of dropshots attempted.
Nino Serdarušić for his part came into the mix when he had to replace Grigor Dimitrov. The Bulgarian played only one match, a quick loss to Borna Ćorić (4:1 4:1), by the end of which he looked visibly tired and worn out. This seemingly innocent scene, like bulldozers razing bat-infested palm trees in the movie Contagion, would turn out to be the harbinger of events to follow. Despite his short appearance at the tournament, Nino had the time to score a tightly contested win against Pedja Krstin (4:3 [7:5] 4:3 [7:1]). Unfortunately for Pedja, he didn't manage a win at the tournament, losing his final match to Borna Ćorić (3:4 [4:7] 3:4 [2:7]).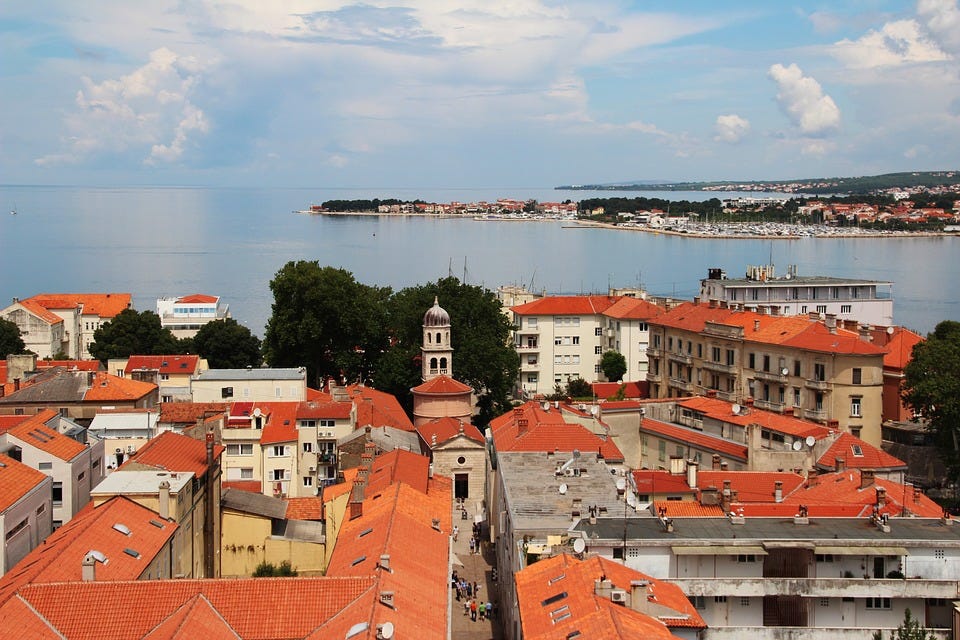 SATURDAY – JUNE 20, 2020
Borna Coric (CRO) def. Grigor Dimitrov (BUL) 4:1 4:1
Danilo Petrovic (SRB) def. Alexander Zverev (GER) 4:3 (7:2) 4:3 (7:1)
Novak Djokovic (SRB) def. Pedja Krstin (SRB) 4:3 (7:3) 4:1
Andrey Rublev (RUS) def. Marin Cilic (CRO) 4:3 (7:5) 2:4 4:1
Nino Serdarusic (CRO) def. Pedja Krstin (SRB) 4:3 (7:5) 4:3 (7:1)
Andrey Rublev (RUS) def. Danilo Petrovic (SRB) 4:2 4:1
Novak Djokovic (SRB) def. Borna Coric (CRO) 4:1 4:3 (7:1)
Alexander Zverev (GER) def. Marin Cilic (CRO) 4:3 (7:1) 0:4 4:3 (7:1)
SUNDAY – JUNE 21, 2020
Borna Coric (CRO) def. Pedja Krstin (SRB) 4:3 (7:4) 4:3 (7:2)
Andrey Rublev (RUS) def. Alexander Zverev (GER) 4:2 4:1
Novak Djokovic (SRB) def. Nino Serdarusic (CRO) 4:1 4:3 (7:3)
Danilo Petrovic (SRB) – Marin Cilic (CRO) 4:2 4:2

Novak Djokovic and Andrey Rublev came out of their respective groups with three strong performances and three wins each so it was fitting that they were to meet in the Sunday night final. As the evening session wrapped up and the stage was being set for the culminating match, curiously, no players were stepping out on the court. The crowd, hungry for more tennis, started to grow restless, but when the tournament director of the Zadar leg of the Adria Tour, and Novak Djokovic's coach, Goran Ivanisevic, took to the court instead, they fell silent. In a surreal way, worthy of an apocalyptic movie scene where the event triggering the titular cataclysm gets revealed, a stark reminder of the reality had been delivered. Grigor Dimitrov had fallen ill with the COVID-19. The final match had been cancelled. The fans were being advised to go home.
It was as if the spell we had been under these past two weeks, this make believe that the nightmare is over and things are starting to go back to normal, had suddenly broken. One moment we were enjoying tennis in the sun, the next we were thrust back into a grim world fighting for survival.
And just like that, it was over. In the hours to follow, all participating players would undergo COVID-19 tests, with Viktor Troicki and Novak Djokovic testing positive. The following morning, Troicki and Djokovic's wives and Novak's physio were also found to have been infected with the virus. The announcement cancelling the Adria Tour followed shortly after.
There is no doubt that with the charity aspect of the tournament, the event was staged with best intentions at heart. The questions about health concerns were there from the beginning, however, and as tempting as it may now be to indulge in a blame game, we have to first support and look after everybody affected before we start pointing fingers.