Dear Dominic
A letter to Dominic Thiem
Dear Dominic,
You don't know me, but I am a fan. I adore your tennis. I've watched you since you broke onto the Big Time Tennis at the age of 20, throwing yourself around the court with the raw energy of Cocaine Bear. You never seemed to tire and you played shots that defied logic, and quite often, reason. But, gosh, you were entertaining; your one-handed backhand leaving bruises all over the Tour. You seemed to take the idea that a tennis ball could be struck with anything else than 120% power as a personal affront. You hit hard. You played hard. And you always went all in. The youthful exuberance of Dominic Thiem.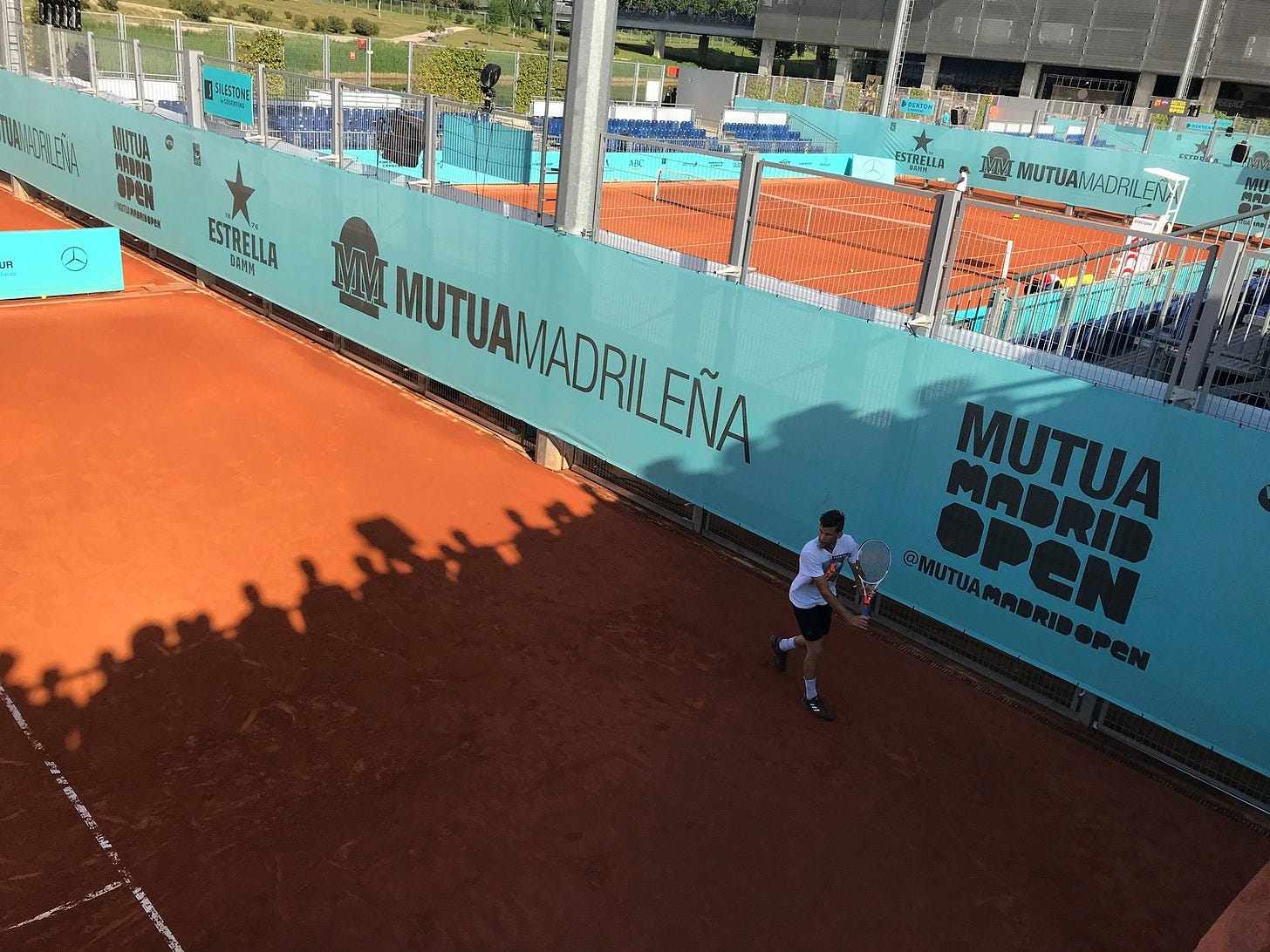 These days you're a different player. You've matured, and I enjoy watching you even more. You take on much bigger guys. You play them on some of the greatest stages in tennis and you give them a game, never half-cocked.
Your game has evolved. You've always been a thinking player but now you seem to think about things other than busting your strings with every shot. Words and phrases such as tactic, strategy, building-a-point, and beyond-the-first-two-shots seem to play on your mind much more often. The results have shown, too. You came through as part of the so-called Next Gen and then went beyond that. You go toe to toe with the Big 3, you play a hard game with your contemporaries, and you bludgeon the rest. No longer a pretender — now a contender. And yet a smidgen of disappointment must lurk somewhere inside. It must have surely played on your mind that if it wasn't for a certain resident of Manacor (Palma de Mallorca, Spain), you'd be already considered one of the greats. You'd be Up-There™. Playing in the era of the Big 3 has toughened you up, the burning desire to be the best crashing against the stoic and remarkable longevity of the Olympus. But it seems to be very much the case of the Unstoppable Force meeting the Immovable Object — so close and yet so far.
And now the Unprecedented happened. Stopped in your tracks after your best year on Tour, at the very peak of your career. It must be frustrating. But you're not complaining. You're too good of a guy. You are able to look beyond the sport you gave your life to and which has given you so much in return. You care about the animals. You care about the planet. You use the platform you've managed to climb on through hard work to focus on the important things in life.
You and I are not so dissimilar. I too devoted my life to tennis and I too am prepared to sweat and bleed on the court. Some of my matches have been likened to your struggles. Last month I played against George W. in the Middlesex Winter Floodlit League 19-20 North East Division 6 and the similarities to your epic battle against Nadal in the Quarterfinals of the 2018 Us Open were striking. In my match too the margins were small. You and I were both a few points away from achieving something remarkable. US Open Semifinal for you. Not getting double bageled for me.
But just as you, I refuse to give up. And the harder I work, the more I am drawn into trying to emulate your game. I have taken on a one-handed backhand. I whack the ball with all my might (usually into the back fence). My serve includes a lot of kick (I'm kicking myself after every double-fault). I hit with a lot of topspin (although with much more top than spin — the ball quite often fails to come down in time). "You are not Dominic Thiem", my coach keeps telling me every time I attempt to take the felt off the ball with one of my shots, his voice tinged with frustration until he realises he's being paid by the hour. But I persevere. I have your racquet. I have your strings. I have your shoes and your 2017 clay season clothes. I have your headband (it makes me look like a balding Johnny Cash). And yet, most of the time, something is missing. Small margins. Like you and Nadal.
It is frustrating. But, just like you, I don't complain. I keep on fighting.
At the end of the day, it's just you and I, Dominic. Us versus the world.