Do No Harm
Novak Djokovic's latest stunt goes beyond the usual hocus pocus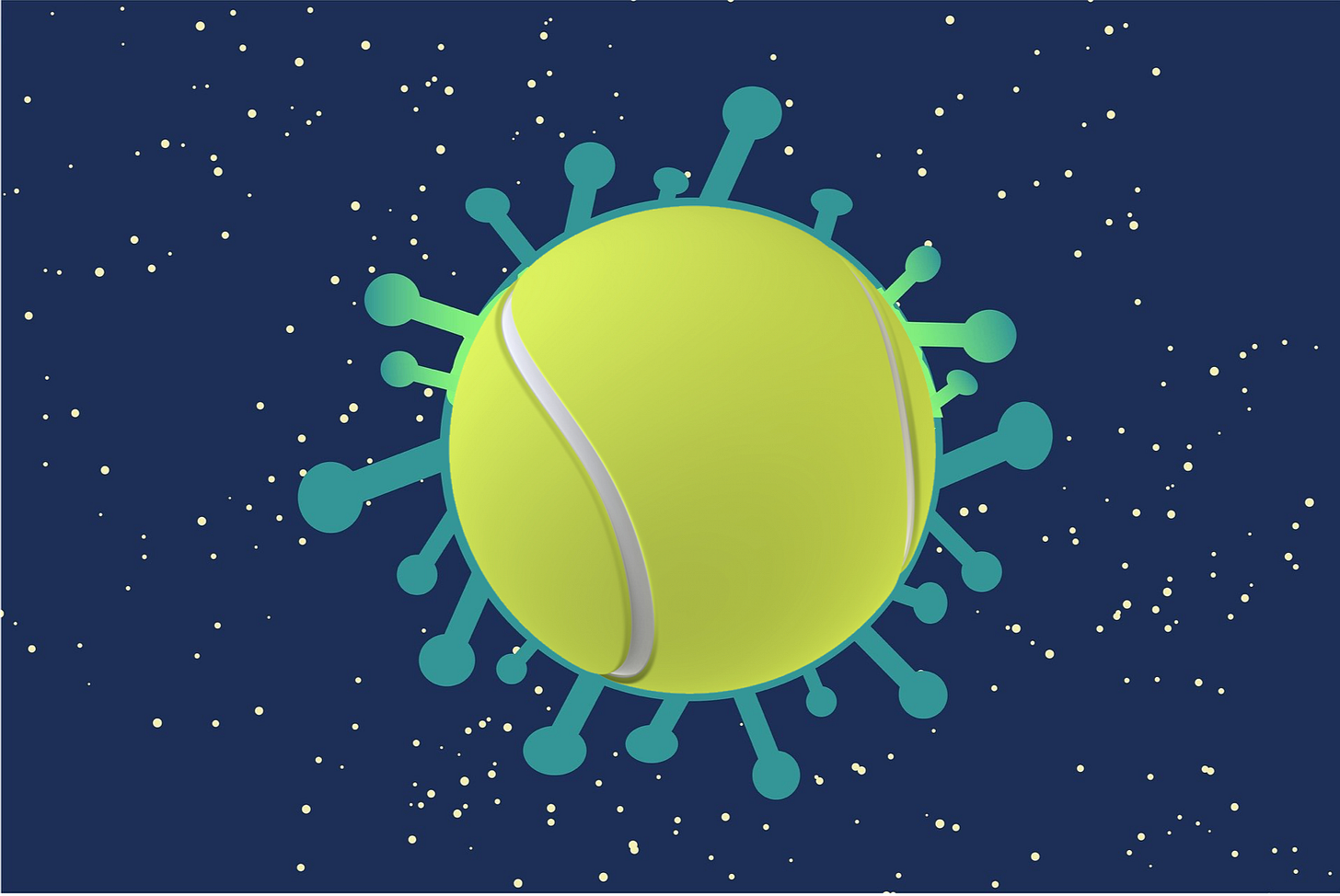 Novak Djokovic loves tennis. It's a game he's grown up with, the sport he's played since 4 years old and the only world he knows. He's been the president of the ATP player council for four years and is one of the most outspoken players on the Tour. He's also a self-proclaimed anti-vaxxer, a science-sceptic, a flat-earther and a voodoo witch doctor. Okay, two of those statements are not true. But the fact that it's difficult to tell which of those two are false, without knowing much about the man's sporting achievements, tells a lot about the complexity of his beliefs. Novak Djokovic loves tennis. Through the passion of his game and off-court philanthropy he has greatly contributed to the sport and surely qualifies as one of the all-time greats. At the moment, he's also not good for tennis. Two things can be true at the same time.
Novak is a wonderful tennis player and a brilliant technician of the game. His groundstrokes are evocative and pleasing to the eye — like an artist with a brush, the deep, slow motion of his racquet follows the same relaxed and well-trained trajectory on each shot. Granted, all players inside the top-100 make it look easy. What Djokovic has that others don't, however, is the reset button. His mental fortitude, and the ability to play each and every point as if in a vacuum, seemingly not registering the impact it may have on the match, makes him an indomitable opponent. Throughout his career, he had tapped into that source of power to win many matches that he shouldn't have. If you had been following tennis for a while, you are probably familiar with the sight of Novak's opponents shrugging dejectedly in post-match conference rooms as they struggled to explain how the match had slipped away from them. Recently, however, Djokovic committed an unusual double fault.
The strangeness of Novak's personal beliefs has always been an open secret. From time to time he'd let slip some outlandish pseudo-science based comment that was largely ignored because we were all too busy enjoying the beautiful game he played. What's that Novak? A slice of bread told you the truth? Good on you, buddy. Just keep winning those trophies. He is a nutcase, but he's our nutcase. However, with no tennis to distract, it became difficult to ignore his ramblings. When, a month ago, he came out disputing the usefulness of vaccines, we all laughed, but there was uncomfortable nervousness to that laughter. When he doubled down and claimed that positive thinking can purify water, eyes started to dart sideways in desperation. Won't somebody stop him, please?
The cult of personality Djokovic enjoys meant that nobody would stop him. When he announced his desire to stage a series of exhibition tournaments across the Balkans — with no testing, no social distancing and no reasonable precautions taken during a time when most people fear nipping out to the corner store might somehow end up killing their grandma — voices of criticism took to air but were quickly dispelled by the legion of Novak followers and enablers. His Adria Tour turned out to be an unmitigated disaster with 3 out of 8 participating players, a sizeable number of players' team members, the director of the tour, Novak Djokovic himself and who knows how many fans, all contracting COVID-19.
Let's be clear on one thing — there was no malice in the creation of the tournament. Djokovic, at present, may be a prominent voice against science, but he's no Bond villain, and I am sure that causing a Coronavirus outbreak is the last thing he wanted. Yet, that is exactly what happened. Novak's intentions came from the right place but the execution was severely misguided. At best it was naïvety, at worst — recklessness. It is alarming but not entirely surprising that at no stage had anybody told Djokovic that holding the tournament in this form may not have been the best idea. The world number 1 and the president of the ATP player council should know better. His job is to lead by example and guide his contemporaries and tennis as a sport towards a better and safer future. Yet, his beliefs and, ironically, the clout he carries, make it difficult if not impossible to do that. Although, if there is one thing that Novak Djokovic has inadvertently done right during these last 3 months, it is putting tennis in the spotlight during a time when no tennis was being played.
The world of tennis has a number of decisions to make. Novak's failed experiment was useful in at least one way — it highlighted the dangers of an improperly ran tournament in the post-Corona reality. The lessons learned from the failure of the Adria Tour must now be applied to the future of the Tour and its eventual resumption — preferably by someone who doesn't believe they can pray away the trouble.