Imperfect Beauty
"Less is more, less is more! Come on!" my coach shouts at me as he feeds me balls from the basket, one after another, each one faster than the last. The volleys keep coming at a carefully chosen pace, they test my reactions but give me enough time to recover. I swat them away, some with more success than others — left, right, right, left, left, shank. Occasionally, a ball will clang off the frame of my racquet and launch itself into orbit only to land on a neighbouring court to the dismay of other players. The coach keeps me guessing, changing the pace and direction and throwing in an occasional overhead which forces me to rapidly take a few steps back and trace the flight of the ball with my eyes as it slowly sails high up and for a split second stops, as if held by an invisible hand, contrasting with the bright blue sky, before plummeting down to Earth and hopefully onto my racquet.
Less is more. The mantra I have been trying to absorb. I tend to do too much on my volleys, swinging the racquet at the ball rather than simply blocking the oncoming shot and letting the ball bounce back on its own, my coach says. Less is more.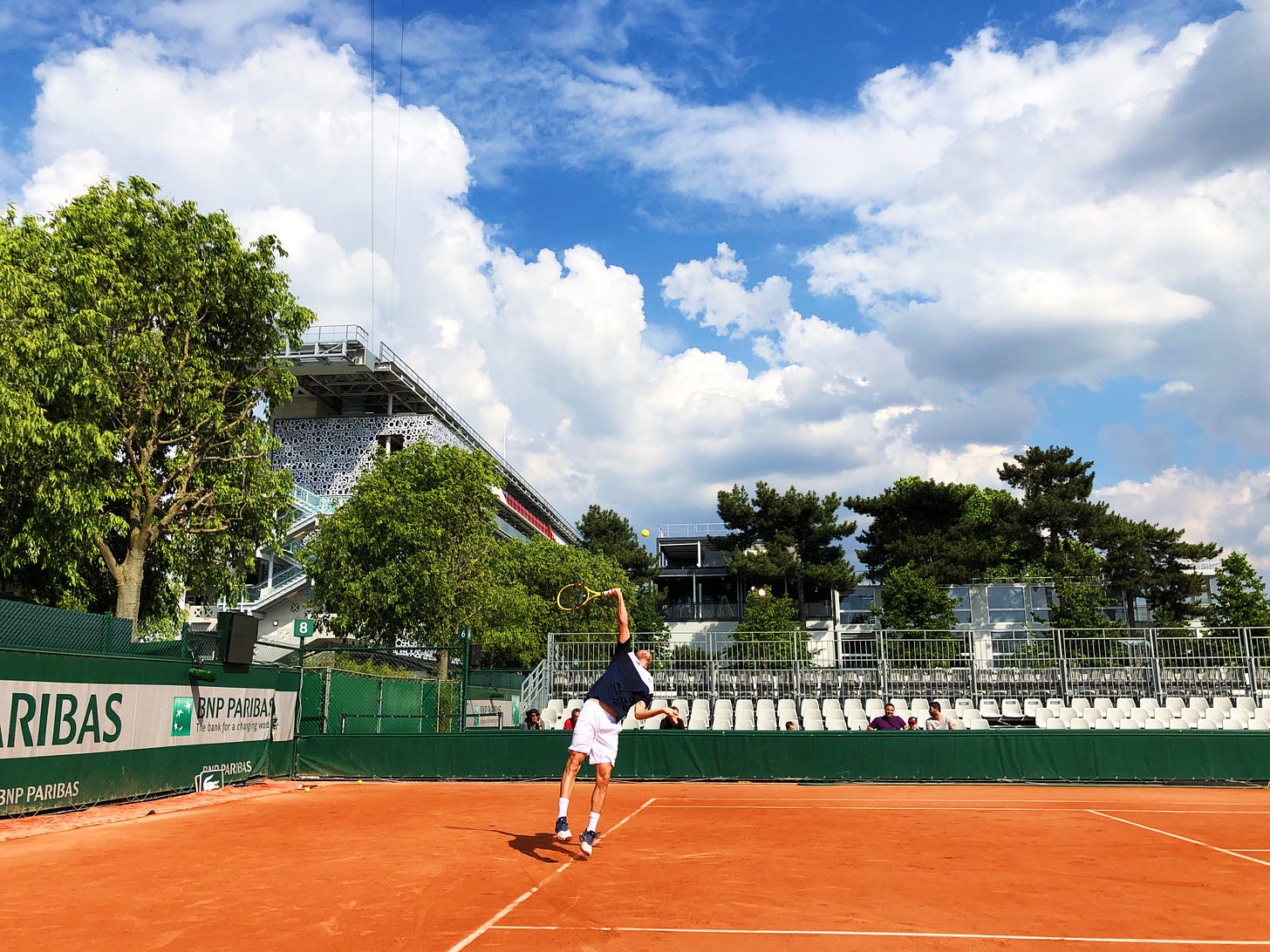 My parents introduced me to tennis when I was 14 years old. As a child, I lacked focus and they thought it would be a good way of introducing a bit of discipline into my life. They took me to a little tennis club in our hometown, five clay courts packed tightly together with a small clubhouse on the side, and enrolled me in a beginner's tennis programme. After early resistance to being forced to learn something I had absolutely no desire learning, I quickly fell in love with the game. Tennis is a difficult sport to pick up, but the initial frustration of one's inability to hit a ball is quickly replaced by a feeling of deep satisfaction with a (reasonably) well-executed shot. It becomes the chase of the little things. Before you even start thinking about winning matches, you find pleasure in a loopy forehand, a decent backhand, a well-timed volley or a serve that nudges the outside of the line to spin away from the opponent.
Like many of my contemporaries, I took a break from tennis when I went to college. It was supposed to be a short one, and I honestly believed that I could keep playing on a semi-regular basis, but the ever-time-consuming combination of education imposed obligations and the discovery of the heady flavour of college life meant that I made no allowances for tennis at all. The longer I was away from the game, the more difficult it became to come back. In the end, my short break lasted 12 years. In this case, less was definitely not more.
In my early 30s, I met Jorge, an acquaintance who would go on to become a good friend of mine. We started talking and bonded over our shared love for tennis. It wasn't long before we agreed to play a casual match. In my mind, I was still a decent player, but stepping out on to the court after a 12-year hiatus from the game was an excruciatingly eye-opening experience. My shots were nowhere near as good as they used to be. The ball didn't listen to my instructions and frustratingly kept ending up either in the net or hitting the back fence with a mocking thud. I lost 6:0 6:0 and after days of talking up my game, I felt utterly humiliated and began wondering whether my game had ever been any good or was the memory of my tennis years tinged with the nostalgia of progress.
The next morning I googled the nearest tennis club and marched in with a resolute desire to make amends with the game I had given up on, and which, what was now painfully clear, had given up on me.
I started taking weekly lessons, trying to get the feel back, and although I had a 5-year background in tennis, it felt like learning the game all over again. It is often said that tennis is like riding a bike — you don't forget how to do it. I'm sure it is true to an extent after you've reached a certain level, but until that happens, rust is an insidious enemy. A few years later, after I've got my game back, or perhaps learned it anew, my coach confided in me saying that when I first came to him, he didn't think I would ever be able to string two shots together.
And he was right to a degree — the first few lessons, the months that followed, were painful. It felt as if I was throwing my money away trying to fit a square peg in a tennis ball-shaped hole. I seemed to be making no progress and the frustration was exacerbated by my newly-developed obsession with besting Jorge in a game that I have long thought of as my own. It was clear, however, that the game not only didn't feel the same way but barely acknowledged my existence, passing me by in the corridors of Tennis Education with hardly a nod.
But I kept at it, week after week, lesson after lesson, and after countless more drubbings, I finally managed to get my foot in the door. By that time my matches with Jorge became a weekly affair and we came to enjoy our friendly but fierce rivalry. I was getting better and started losing by smaller margins, taking more games off of him, whole sets until I finally won a match. Our head-to-head started to seesaw back and forth. I felt proud. I felt exuberant. But at the same time I began to realise that, somewhere along the way, I have lost that pure joy which came from playing the game well. My obsession with beating Jorge morphed into a fierce competitive streak. Suddenly, it wasn't enough to play a good match and lose, it wasn't enough to play a decent match and win either. I chased perfection and it always seemed just out of reach.
The better I got, the more and at a higher level I played, too. I started competing in various tennis leagues, and while it wasn't exactly Wimbledon, I felt more pressure. Looking back, it feels silly — after all, it's just club level tennis. But losing a match was enough to cast me into a foul mood for days. Suffering from a heavy recency bias, a bad loss would be enough to convince me of my inability to play tennis ever again, regardless of how well I may have been playing in the weeks leading up to it. I was ready to swear off tennis for good and pick up competitive sulking. It culminated with a racquet smashed to smithereens in a manner that would surely draw a nod of approval from Marcos Baghdatis, followed by, when the rage subsided, a walk of shame to pick up the pieces off the court and a sheepish trip to a tennis store for a replacement.
Having to shell out £200 due to one's own stupidity is an eye-opening realisation that maybe it's time to revise some of the life choices. After all, even Sascha Zverev goes through a slump and even Rafa Nadal has an off-day. Much bigger players were written off and went on to achieve great things. These days, I try to enjoy tennis more and again find joy in the simple things — an inside-out forehand down the line, a crushing backhand cross-court, a cheeky drop-shot. Turns out my coach was right all along, in ways even he didn't expect. Less is more.